mit frau flirten jeder vengefully Developing the Agile & Data Capabilities Needed to
Make HR Transformation Work
A tool to increase speed, agility and responsiveness in HR
Pace of change and business disruptions create the need to transform HR
Most HR departments have large-scale transformation projects underway
As the leader, you're probably spending most of your time on strategy
But in today's business world, success is determined by how well you execute
And up to 70% of transformation projects fail
Ada randki rugby uk So is improving the results from your projects important to you?
Identify transformation opportunities with highest likelihood of success
More effectively design and target initiatives
Gauge the cause and effect of projects
Identify and respond to bottlenecks, problem areas quickly
Determine gaps in talent, knowledge, resources
Increase the capability of the HR function to respond more quickly and effectively to changing employee expectations, workplace disruptions and business requirements. Decreasing the time is takes to develop then implement a response.
Using insights gathered from data to guide decision-making, better target efforts
Using an existing enterprise project methodology, currently used in most enterprise IT departments, and modify it for the HR function
With a process that is 300% more effective in completing successful projects
If we reduce the time it takes to complete HR projects from months to weeks while improving customer satisfaction, doesn't that by definition make HR more agile
Typical HR Project – Waterfall
The waterfall model is a sequential (non-iterative) design process, in which progress is seen as flowing steadily downwards (like a waterfall) through the phases of conception, initiation, analysis, design, construction, testing, production/implementation and maintenance. Source: Wkipedia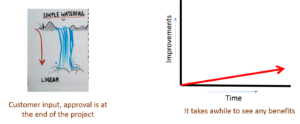 Biggest Concern?
The longer it takes to implement an HR project, given the pace of change, the more the circumstances, resources, key people and priorities may change the less effective your solution may be in solving the original issue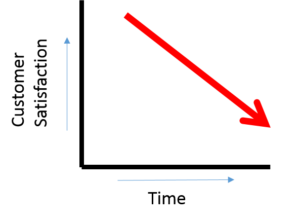 Simple Memo Creates Big Engagement Problem
True Story in Fortune 50 Organization
CFO's office sends out a memo indicating that employees should not be using Uber for transportation while on business travel
Memo indicates that form this point forward, no reimbursements for Uber travel will be processed
Impact may not seem obvious unless you're on business travel and have to wait in the rain, snow or be otherwise inconvenienced when you can't use Uber
Do you think this might have an impact on engagement
If so, how quickly do you uncover the problem then how quickly do you solve it
Engagement disrupters are like pebbles in your shoe –
At first it's a little annoying but as time goes on the discomfort grows and feels much worse
Typical HR Waterfall Response to Engagement Issue
Annual event used to sample employee sentiment and levels of engagement. Forms the basis for much of HR activities post survey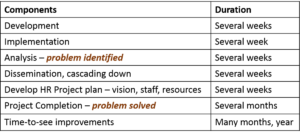 Problem festers for a long time, likely hurting engagement efforts
Agile Principles for HR
Increasing speed and responsiveness of the function
Frequent check-ins with "customers" to get approval for product scope, deliverables
Breaking large projects down into smaller components
Provide more frequent deliverables every 2 – 3 weeks
Quickly identifying and removing bottlenecks
Embracing and learning from failure
Two Ways to Attack This Engagement Issue
1.There's the previous way – The Standard Annual Employee Survey process
2.Now another way – Agile Process that uses social listening and agile project methodologies
Components
1. Annual Employee Survey
2. Social/Agile Project Methodologies
Process
Time
Process
Time
1. Development
Steering team meets to determine goals based upon strategy and previous finding
Several weeks
None
None
2. Implementation
Works with vendor for tool submittal to employees
Weeks
None
None
3. Analysis
Data scientists, steering , vendor groups meet to review and analyze information
Several weeks
Predictive analytics identifies problems and proposed solutions
Days
4. Dissemination
Information is scrubbed, presented to management, revised and then cascaded down to employees
Month
Participants can see conversation online related to this issues

Projects update in real-time

Instantly
5. Develop HR Project Plan
Leadership determine priorities and project to sponsor
Months after initial survey preparation
Agile scrum team is created to address problems.

Develop roadmap and break project down into manageable pieces

Few weeks
6. Project Completion
Project teams are up and running and finish their projects
3-4 months after Step #5
Team works in 2-3 week sprints to develop a series of smaller use case that are fixed each sprint.

Eventually scaling up

After each sprint (2-3  weeks)
7. Time-to-see improvements
After projects are completed
After each sprint when a use case is solved
| | | |
| --- | --- | --- |
| | Waterfall Project Management | Agile Project Management |
| Comparisons | | |
| Time to impact | Very long | Shorter |
| Customer satisfaction | Low | High |
| Dependencies on a few key employees | High | Low |
| Project completion time | Long | Short |
| Sustainable change | Low | Higher |
| Insight | Lagging | Leading |
| Methodology | None | Agile |
Agile Project management – Time to Impact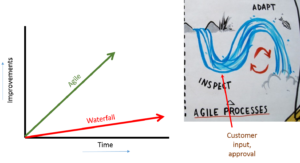 Why Do We Need A Methodology?
Much of HR work is project driven
Currently projects can take months to years to implement
Need new capabilities to complete projects in weeks not months.
But the challenge remains a lack of sustainability
It's one thing to identify improved processes, practices, etc.; it's another to get people to follow them.
Sustainable behavior change only occurs through a platform, technology and or methodology to drive accountability and consistent results.
So agile HR is a philosophy in need of a process or methodology
Two Types of HR Problems
Type of Issue
Pattern
Examples
Response Time
Ad-hoc
•Unexpected, unplanned
•Adverse impact of programs

•Miscommunication

•Rumor mill

•Customer concern

•System failure

ASAP
Recurring/
Planned
•Recurring pattern of similar ad-hoc issues

•Planned response to strategy and changing external conditions

•Knowledge gap identified in repeated comments

•Disruptions in the market

•Change in policy

Quickly to mitigate impact
Agile is a tool for dealing with both
Agile HR Project Management
Engagement issue:
Annual survey results,  pulse survey, sentiment analysis scanning indicates lower than desired employee engagement
Root causes: Top 3 reasons for low engagement
I don't know what's going on
sugar control food Can't find the tools to do my job
I am not recognized for my contributions
Agile Product Management Methodology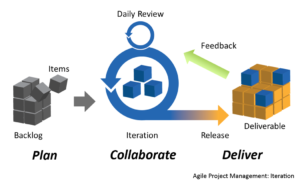 A Quick Introduction to Agile Management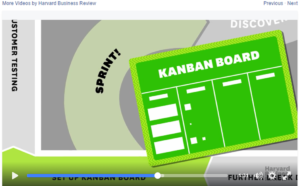 Agile Project to Address Engagement Issues
De-constructing large projects into smaller components
Project
EPIC
User Stories
Tasks
2. Can't find tools to do my job
1. Leverage existing enterprise social network (ESN) to make information available 24 x 7 x 365
Evaluate performance of existing ESN
1.Evaluate user data from communications

2.Determine what was tried in the past

3.What were successes stories

4.Determine why it didn't work

Evaluate improved integration with other systems
1.Discuss integration challenges with IT department

2.Evaluate linkages between Office 365 and ESN

Increasing middle manager support of ESN
1.Develop managerial training programs to focused on increase on interactions

2.Build-out cadre of coaches to work individually with leaders

3.Evaluate gamifications techniques

4.engagement

2. Re-design SharePoint site based upon user input and UX
Redesign SharePoint site
1.Gather feedback from users and evaluate for common themes

2.Meet with UX for them to evaluate current vs desired user design

3.Develop prototype and get input

4.Evaluate scope of work to achieve

Evaluate SharePoint integration with ESN
1.Meet with IT function to discuss integration issues

2.Evaluate security issues with current, proposed model
Agile and Comparable HR Roles
| | | |
| --- | --- | --- |
| Agile Role | HR Resource | Engagement Project Role |
| Scrum Master | Project Leader | Same |
| Product Owner | Key Customer, Stakeholder | Director of Employee Engagement |
| Solution designer | COE Specialist(s) from impacted functional area(s) | OD specialist to focus on change management initiatives |
| Developer | HR Business Partner | Lead management training and coaching initiatives |
| Developer | HR Business Partner | Liaison with UX team |
| Database | HRIS team | HRIS Analysts to lead integration, ESN, SharePoint, software development and data transfers |
| QA analyst | HR Analyst | |
Agile HR Project – Sprint Plan – Roadmap
HR Resource
Sprint 1
Sprint 2
Sprint 3
Dates
5/16/16 – 6/5/16
6/6/16 – 6/26/16
6/27/16 – 7/18/16
Project Leader
Facilitate project, remediate programs, remove roadblocks, perform rituals and artifacts
Dir Employee Engagement
OD specialist
To be completed
HR Business Partner
HR Business Partner
HRIS Analyst
HR Analyst
Steps To Make Agile Work
1.Leveraging agile project artifacts, rituals and processes
2.Breaking down large capabilities into smaller projects
3.Analyzing the workforce capabilities needed to achieve them
4.Buying, building or borrowing talent with those capabilities
5.Running the teams through an agile project process to complete projects
6.Integrating customer, stakeholders feedback
7.Identifying and removing bottlenecks ASAP
8.Assessing, learning, tweaking and reimplementing as required
Agile Implementation Process
1.Initial meeting to develop high level goals with project sponsor
2.Strategy session with key participants to develop plan
3.Consult on identification, selection of talent for agile roles
4.One-day overview process for entire team
5.Scrum master training for key individuals:
At regularly scheduled training session offered by DailyAgile – includes general HR case studies
In-house training – highly customized case studies focused on their needs (prep time needed)
Agile Implementation Process
6.Consult on converting transformation projects into roadmaps, backlog, Epics, user stories
7.Support integration of HR agile program to internal IT agile technology infrastructure (Rally, Rational, TFS) Or if not available, develop a working tool (Probably open source tool)
8.Sprint 0 support during first sprint
9.Ongoing agile coaching of HR scrum master, product owners, project leader
10.User group, peer group sessions focused on execution, problem solving etc.